Throwing on the Potter's Wheel 2 & 3, Mondays with Deb 6-8:30, 4/8 to 6/10 FULL(10 sessions)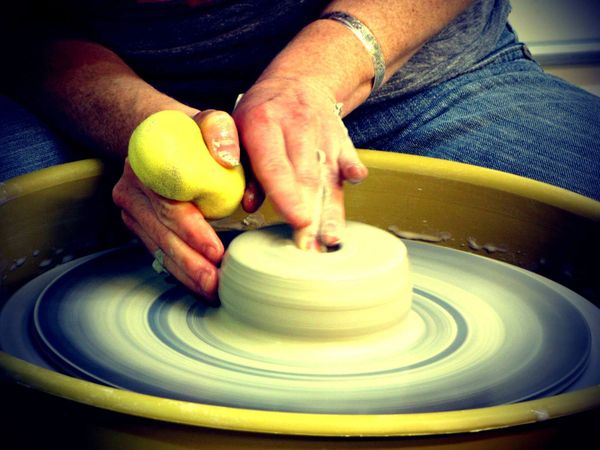 Throwing on the Potter's Wheel 2 & 3, Mondays with Deb 6-8:30, 4/8 to 6/10 FULL(10 sessions)
Join Deb at Baker Creek Ceramics for this exciting throwing experience! You will learn how to throw mugs, bowls, plates or jars on the potter's wheel. You will also learn how to trim and decorate your work. Finally, you will learn how to glaze. Class will meet Mondays 6 to 8:30 pm for 10 sessions (25 hours) and 6 to 6:30 pm on 6/17 to share the firing results and pick up your work. Clay is $30 per bag (25 pounds). You can purchase clay on-line or the first day of class. Bring your pottery tools, some plastic to cover your work in progress, a small hand towel, dress for mess and be ready for some fun! 
This is an intermediate class, one previous class required, ages 16 and up. Class minimum 4/maximum 10 students.
Week 1: demo wedging, centering, cylinders
Week 2: demo trimming, review centering and cylinders

Week 3: demo bowls, review trimming

Week 4: pulling handles

Week 5: trim all work, add handles and get ready fir bisque firing

Week 6: glaze
Week 7: independent projects
Week 8: independent projects, last night for wet work

Week 9: last night for trimming and carving
Week 10: final glaze night

Pick up work 6/17 from 6 to 6:30 pm

Cancellation & Refund Policy
Withdrawals and refunds – If Baker Creek Ceramics cancels a class, students will receive a full refund. Students who withdraw two weeks or more prior to the first day of class will receive a full refund less a $25.00 processing fee. Students who withdraw fewer than two weeks prior to a class will not receive a refund or transfer.

Missed Classes – There are no discounts, transfers or refunds for missed classes.
Class Cancellation – All classes not meeting the minimum enrollment of 4 students one week prior to the start date may be cancelled.  Baker Creek Ceramics will contact students in affected class and offer refunds or placement in an additional class.
Disruptive Behavior - Baker Creek has the right to remove a student from a class if the student's behavior is offensive or disruptive to the class. 

Enrolled Students Only - Class instruction is for students enrolled in the class ONLY, no guests or children please. 
Please contact us if you have any questions regarding the above policies prior to registering for a class bakercreekceramics@gmail.com